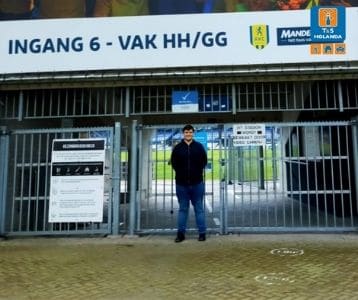 Why did you decide to choose TenS Holanda to go to the Netherlands / Why did you choose the Netherlands instead of another country?
I came to Holland with another agency, but I had already contacted TenS Holland before coming and also had an interview with you, but it was with another agency that I came with. Honestly, the best decision was to move to TenS Holland, Holland has always attracted my attention, it was always among the countries I wanted to visit and, when the opportunity arose, I took advantage of it.
How did you find us?
I was on the InfoJobs website looking like crazy for a job with no luck until I saw the offers to go to Holland and I thought: I can try.
Did you feel confident about the services we have offered you at all times?
I'll be honest, I'm a very suspicious person but I felt safe from the start. The truth is that it seemed too good to me, but from the first contact with you I can say that you have always been very kind and attentive, you have always found the answer to every doubt and question and in this moment I can say that I trust this agency a lot .
Before going to the Netherlands, what were your goals? Did you satisfy him?
Well, look, I thought it was going to be a period of work, to save money and improve my English, but in addition to achieving these goals I have made a lot of friends here, which I didn't expect.
Once there, how did you feel at first? Did you know how to adapt? Were you afraid? Have you thought about going back to your country?
For now, I feel very good, I feel fulfilled, the Dutch are very nice. My English is not very good and they do a lot to understand you, this is something I really appreciate because I have happened to travel to another country and speak in English and people made no effort to understand you.
The adaptation was very easy for me, the truth is that at the moment I have not had any problems and it is not the first time that I have moved to another country so I have had that experience.
I had planned to return to Tenerife in September / October of this year, but these two months with TenS Holland have made me rethink my future, I have not decided yet, but the scales are in favor of staying for a good season here in Holland .
Would you recommend this experience? Because?
Of course yes, because I think it's a necessary experience to get to know another culture, learn a language and, equally, you earn quite well, it's an incredible country, a lot in every sense and I think it's really worth it.
What would you change today compared to your stay there? What do you miss most?
Without a doubt, the first thing I would change is the issue of coronavirus and restrictions, but it is clear that this is an issue that gets out of hand. I'd like to know what normal life is like in the Netherlands without the coronavirus, so I'm planning on staying longer than expected.
For the rest I would not change anything about my stay, what I miss most undoubtedly are friends and family as I think is logical.
How is your life there? What do you usually do on a day off, for example, and how is your working life (you have fun, sometimes it's a bit stressful, the idea doesn't convince you at all …)
In my case, I don't work weekends and I don't always do the same, but I always tend to watch football, play it, have a few beers with friends and rest.
As for working life, the truth quite well, I couldn't be happier, the colleagues are amazing.
I like the work itself, I respect the breaks, I don't go out tired and I don't want anything like I did in Spain and in terms of stress, it's almost nil, only the first day, but it's normal.
Additional comment:
I would like to highlight the accommodation problem, without a doubt the worst thing that happened with the other agency was the accommodation, being nice it was terrible and when I moved here …
I live in Waalwijk, specifically Workinn, and I really give it a 9.5 / 10.
Something I regret is not coming with you because with the other agency I quarantined completely by myself and with part of my own pocket.
I was 10 days locked in a hotel room alone, on the third day I wanted to die and talk to people from TenS Holanda who had quarantined with you, apart from the fact that it was free, people could talk to each other in how much they were together, relating and having some acquaintances to start this journey.