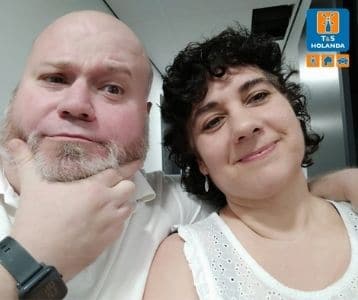 Victor's story comes from far away, precisely from the Philippines. Victor returned to Spain from the Philippines and after a month he realized that what he needed most was to go out again and discover the world by working abroad.
He found our offer on the internet and went to work, he wanted to go to the Netherlands. As for the selection process, he tells us that it was all simple, fast and clear.
When he arrived in Holland the weather was shocking, as coming from a country like the Philippines with a temperature of 40º, he didn't expect to be in Eindhoven with -11º. At the airport he was alone and had doubts and some fears invaded him, but once they met him, they took him to the offices and showed him the accommodation, he relaxed.
Now, several months later, Victor is very happy and hopes to achieve his goal of returning to the Philippines with his partner in the house they are building there. He believes that within a year they can achieve it.
As for the workplace, he is very happy. His means of transport is an electric bike and he is delighted. He tells us that there is an excellent relationship between colleagues and even in the summer they meet in ice cream parlors and pizzerias when the working day ends.
Surprisingly, Victor tells us that he is very comfortable in the new housing we have built, but that he misses the workhouses. He is a lover of nature and those lodgings were located closest to it.
We want to thank you Víctor for the time you dedicated to the interview and we are very happy that you are happy there. You are a very nice person and we want you to be able to achieve all your goals.