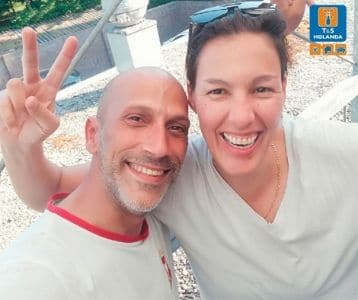 Sometimes life surprises you and turns everything you thought you had under control upside down. You had a life with a person you believed you loved and with whom you have been sharing memories and stories for 20 years. You shared groups of friends, Netflix afternoons, and mornings of not wanting to get out of bed.
But sometimes everything is cut short, and you are no longer married. You no longer share groups of friends or memories with someone but you start creating your own.
Rui, 43 years old and Portuguese, decided that it is never too late to start again. The desire to start writing a new story from scratch, led him to contact TenS Holanda and start a new life in the Netherlands. He felt eager, brave, although fear did not let him sleep peacefully on the worst nights.
And in just three weeks he saw himself in another country starting from scratch, although today he believes that it is one of the best decisions he made in his life. He is happy at work. It has given me the impression, when talking to him, that he is a person who works to live and does not live to work. He enjoys what he does, and the friends he has met at the company, too.
Although he shares a room in his house, he would like to be somewhat more independent and have his own space. At the moment, they have offered him the possibility of having a single room but who knows if in the future he ends up having his own home in the Netherlands. But he is happy. He thanks us because, according to him, "he had that little push to enter a new stage in his life."
Rui is an example of how life turns around. That it is never too late if you feel like it and that you always have to look for happiness in the small details even if it is miles away.