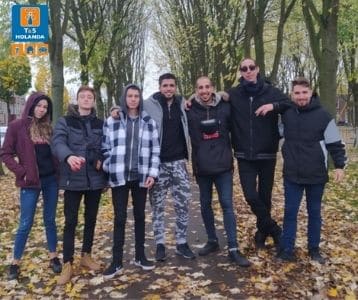 Isabella's story begins when some of her friends advise him to go to work in the Netherlands through TenS Holland. Her desire to live an experience abroad and to save did the rest.
She currently shares a flat with four friends who are becoming a real family for her. She tells us that every morning they wake up very early to prepare food and go to work. They arrive at around 7:00 in the morning, have breakfast and get to work.
She ensures that she is happy at work and she appreciates the three rest breaks throughout the day. Around 2:45 pm they usually finish and go home to recharge the batteries.
To get around they use a company car that the 5 share and that helps them get around without having to get cold or get wet on rainy days.
Luckily for Isabella, her father is Dutch so she speaks the language fluently. This helped her to adapt wonderfully. She says that at first it was difficult to establish a friendship with her colleagues but that little by little they improved the relationship, now finding herself comfortable with her.
The only negative aspects she told us about were the cold, which she is not used to in Spain, and the supermarket which is not too close. For the rest, she is very happy and eager to continue working there throughout the month of January.
We want to thank Isabella of TenS Holanda for taking the time to interview and we hope she continues to be just as happy enjoying the Netherlands with her friends.