I was living in Venezuela, and as you know, the situation is not the best for a stable job. I had been unemployed for some time and I started receiving recommendations on TikTok about working abroad. Many of them caught my attention. I have Spanish nationality, so I could work in any country of the European Union and I started to send CVs to all the companies that the social network was recommending me.
TENS Holanda contacted me quite quickly. There was a problem with the fact that I had a Venezuelan phone number, so we had to talk via WhatsApp, but well, we were very lucky. I set up an interview with Alonso, a recruiter who was pretty cool. It was all pretty clear, so I just had to start looking for flights to go from Caracas to Madrid and then from there to Holland.
When I arrived in Holland, I had a hard time with everything. I wasn't familiar with the transport network in Europe, so it was difficult to get to Waalwijk. I got accommodation on the Belgian border, and it was a bit far away but I had gone to work so I wasn't worried at all. Later on I was transferred to a village next to Waalwijk and here I am now.
The first days in my company were hard because I was self-employed in Venezuela, so following orders was new to me. I got used to it and now I am an expert in my company. I am a person who finds packing easier, but I had to get used to picking.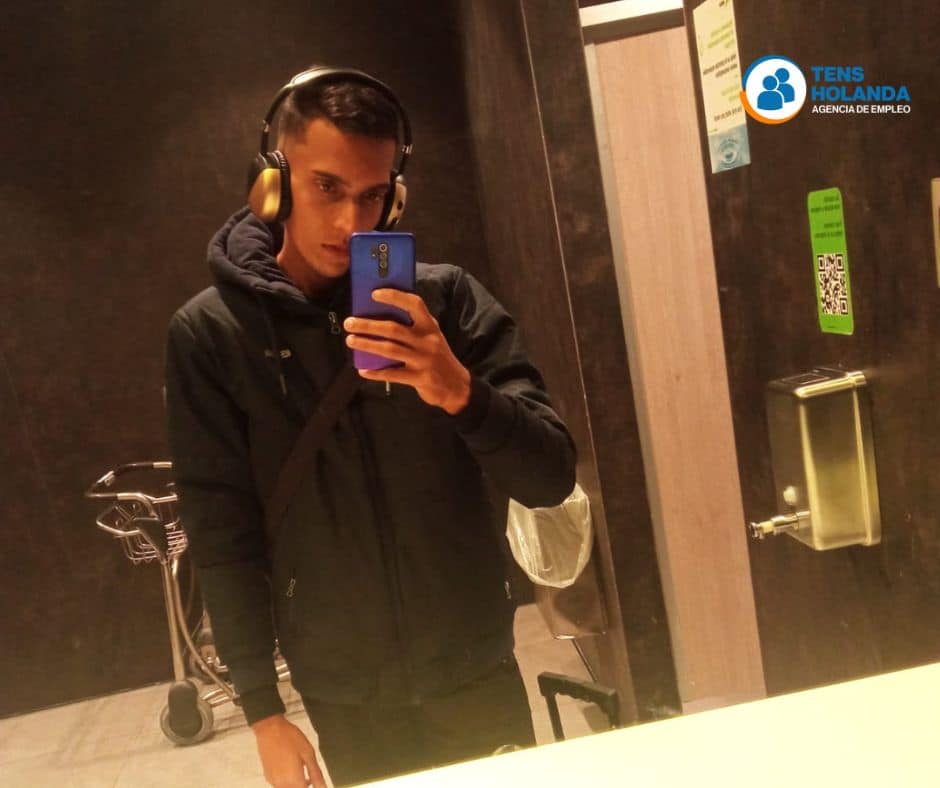 For me, family is sacred and that has been a little difficult for me to assimilate with the distance that exists at the moment. The good thing is that where I am right now I have a group of friends with whom I get on very well. I also like sport a lot: the gym, football…. When I arrived in Belgium, I wrote to several teams but none of them answered me. This was quite an emotional blow, but my move to the village near Waalwijk has led me to start training with a team in the fourth division of Dutch football as a goalkeeper. I have always felt that I am very good at it, and my dream here is to become a professional. So much so, that among my friends is my future agent. My work doesn't take time away from what I want to do, and being here I've been able to watch the Waalwijk football team, which is in the Eredivisie, the top flight of Dutch football.
My dream is to stay here for a long time and earn as much money as possible, so that I can invest it in Venezuela and be able to follow my path as a freelancer, which was the first thing I wanted to be before coming to Europe. I may sound heavy, but I'm also thinking about football. Who knows if I won't become the "goalkeeper" of the Vinotinto.
When I get days off, I always make it a point to go for a walk in Waalwijk, and before that, in Turnhout. They are quite different places, but I loved them both. You could even say that I know the whole town. Even the industrial estates. I also like to train on my own. I work out in the gym or try to practice goalkeeper training exercises. As I said before, I also went to watch football, just one of the days off I had. It wasn't really the best result I could have hoped for, but hey, that's a good sign for me….. They need a better goalkeeper.
For me, this experience has saved me a lot. I feel like a different person, and it has changed me for the better. I am very grateful to TENS Netherlands, because they not only helped me to come, but they also followed me up. This is the best thing that can happen to you, because you realise that you are not a number. You are a person and, like them, you work to get ahead. I am happy here and all I can say is thank you. Thank you for changing my life. And for all those who are hesitating to come, don't. You're going to have a great time. You're going to have a great time. Take my advice, that's what I do…