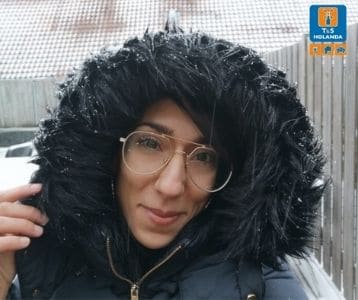 Siomara was in the Canary Islands looking for work and, seeing the situation that Spain is experiencing with the current Coronavirus pandemic, she decided to look for work outside. Later, browsing the job sites, he found our offer and decided to apply.
At first, she thought that she would not be selected as her English level was very basic. Fortunately for Siomara, it was a time of high demand, a time when there is a lot of work and English is not as important as the desire and motivation that a girl like her can offer.
Before traveling, she remembers that she was nervous about learning about and adapting to a new culture, but thanks to her determination in making this decision, she was able to cope with it all.
At first she was supposed to stay a month, which is the length of the high demand season, but thanks to her good work and her devotion she was able to stay longer.
Compared to English, Siomara, in these three months she feels that she is improving a lot, especially in understanding. Between her work, where everything is spoken in English, and her roommates, who help her, she believes she has made good progress in learning the language.
In regards to her workplace, she tells us that she loves doing such an active job. Being in constant motion and burning energy from one place to another helps her a lot, in fact she tells us that she is very hyperactive.
On her rest days, however, Siomara likes to visit different cities such as Waalwijk or Tilburg with her bicycle, taking advantage of the opportunity to get to know the country. One negative that she points out was the price she paid for her bike, which cost € 150 and was second hand. However, on your return to Spagan you will be able to resell it for half of what you paid.
She now aims to rent a car to visit the Netherlands and even go to Belgium or Germany to visit her friends.
Finally, she recommends this experience as she believes it is an opportunity where they simplify things for you, earn good money and, if you have an adventurous spirit, it turns out to be very interesting.
We want to thank Siomara for her time and we sincerely hope that she will continue to be just as adventurous and enjoy this experience.