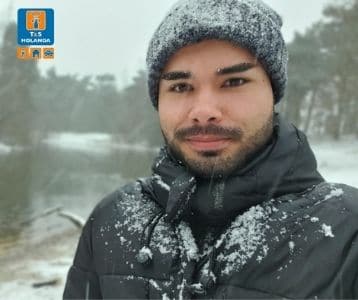 Bryan, from the Canary Islands and a journalist, wanted to go to Holland on the advice of a friend of his. He found a TenS Holanda offer on a job search website and didn't hesitate to send him his CV.
Upon his arrival in the Netherlands, he went to the office to sign the contract and, at that moment, doubts arose as to whether he was doing the right thing. After signing, on the way home, he met another Spanish girl with whom he had a nice chat and in that moment he switched chips and concentrated on enjoying the experience.
At first, his quarters were more than 10 kilometers away from his workplace, so they gave him a car to get around. Bryan met with his mates in the nearest parking lot and they went to work together. This seemed very convenient to him.
Later, for organizational reasons, he had multiple removals to provide homes close to work, as well as transfers due to home damage, trying to provide more complete accommodation. This Bryan admits that it was a bit annoying, since, adapting to one house, he had to move to another.
One of the moves was requested by Bryan himself as he had a roommate with whom he did not have a good relationship. At TenS Holanda we continue to work to improve our accommodations and make your experience the best it can be.
As for the job, Bryan tells us that there are big companies, with very impressive structures, where you have a coordinator to do the initial training with and then it's a very autonomous job, where you have a lot of freedom.
Bryan went to work in the high demand season which ended on January 10th, so he spent a week waiting to find another job as he wanted to continue in the Netherlands. Bryan admits that he was in a bit of anguish because he didn't know if it would be possible to find another job, even though he luckily had managed to save up to comfortably survive that week without working. We have finally managed to find a job where Bryan is happy today, is very comfortable with him and allows him to continue enjoying this adventure.
Finally Bryan tells us: I recommend the experience to get out of your comfort zone, I have fulfilled the dream of living outside Spain, it is a brutal experience, they give you everything chewed and you have to take advantage of it. Then you can complain, but they give you everything.
We really appreciate the time Bryan gave us that he was very objective and he wanted to highlight all the positive and negative aspects that allow us to improve. We hope you can continue to be happy in the Netherlands by fulfilling your dream of living abroad.