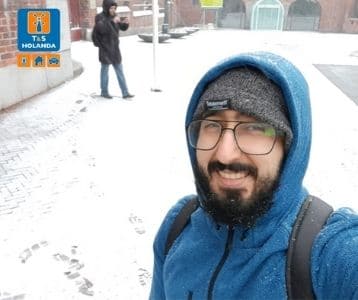 Maher, due to Covid-19, became unemployed and therefore decided to go on an adventure. He started looking for work online, applying in one of our offers.
Once we contacted him, he looked for information about us on the website, reading different types of opinions, both very good and some negative. Maher is one of those who do not judge a book for him covered by him and in the interview he was able to find out in depth everything he needed to know.
He tells us that, having landed in Holland, everything went fantastic. He was picked up at the airport and transferred to the offices for the consigna of the keys to a house that he defines as beautiful, where he had to go through the mandatory quarantine.
Upon completion of the mandatory quarantine to enter the Netherlands, he moved into the new TenS Holland housing. Maher was very happy on arrival as everything was new and very close to work!
Regarding his adaptation of him, he tells us that in the beginning, although everything is different, it's easy to get used to. Fortunately, he has formed a group of friends who calls his family there. Indeed, he takes the opportunity to send them a greeting from here.
At the moment it doesn't occur to him to go back to Spain because he loves Holland and has a job he is really happy with. Maher tells us that in Ceuta (his city) there is a lot of youth unemployment, and he encourages young and old to take a step forward and live this adventure.
Finally, we asked him what he would change about his stay there and his words were: "change I would not change anything, I just hope that soon everything will return to normal and that there is no more talk of Covid".
Maher, we really appreciate your words and your time, we hope you continue to be just as happy in the Netherlands and we wish you all the luck in the world.